Exeter Open Studios here at home in Topsham
Venue 50, Fri 13, Sat 14, Sun 15 May 2016, 10am – 5pm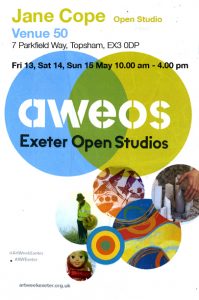 This is the last weekend of fabulous AWE (Art Week Exeter). Have been working on several new paintings for this Open Studio and have lots of new images for cards! Please do pop in if you can. Full details for Exeter Open Studios in the AWE brochure. The flyer below also gives details. And here are a couple of the new paintings – as usual they range across very different subjects and inspiration.